Jon Heder as Napoleon Dynamite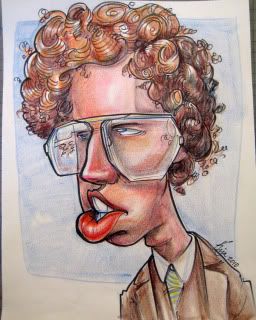 As you may or may not know…I have and ongoing "Celebrity of the Month" at my studio.  Each month I put an unnamed caricature outside my door.  Passersby can guess the celebrity and put their answer (with a contact number) in a box on my wall.  On the first of the new month I draw a winner and that person receives a free caricature!
Jon Heder as Napoleon Dynamite was the Celebrity of the Month for November (I accepted either Jon Heder or Napoleon Dynamite as a correct answer, regardless of spelling).
Stop by my studio to make a guess for December!