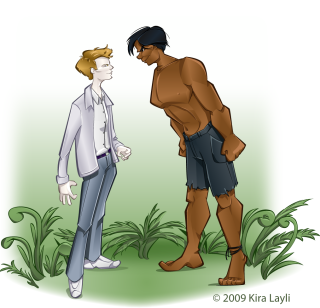 Even if you haven't read the Twilight saga by Stephenie Meyer, you've probably heard of it.  I read it recently, (I refused to see the movie until I read at least the first book).
First, let me apologize if you were intending to read the books and I have given something away to you by posting this image.  If I did that to myself I would kill me.  Someone ruined the 4th Harry Potter book for me, and although I was able (with some professional help) to forgive him, it stands as a warning to anyone, myself included, who might give away the ending of a story.
Ok, I'll keep my narration to a minimum for the above reason.  I will say that as I read the books I got more and more sucked into the story.  I decided to use them as an excuse to do a little character design.  Anyone who has read the books (and probably everyone else, too) will understand this:  Edward Cullen or Jacob Black?  Vampire or werewolf?  Cold or hot?